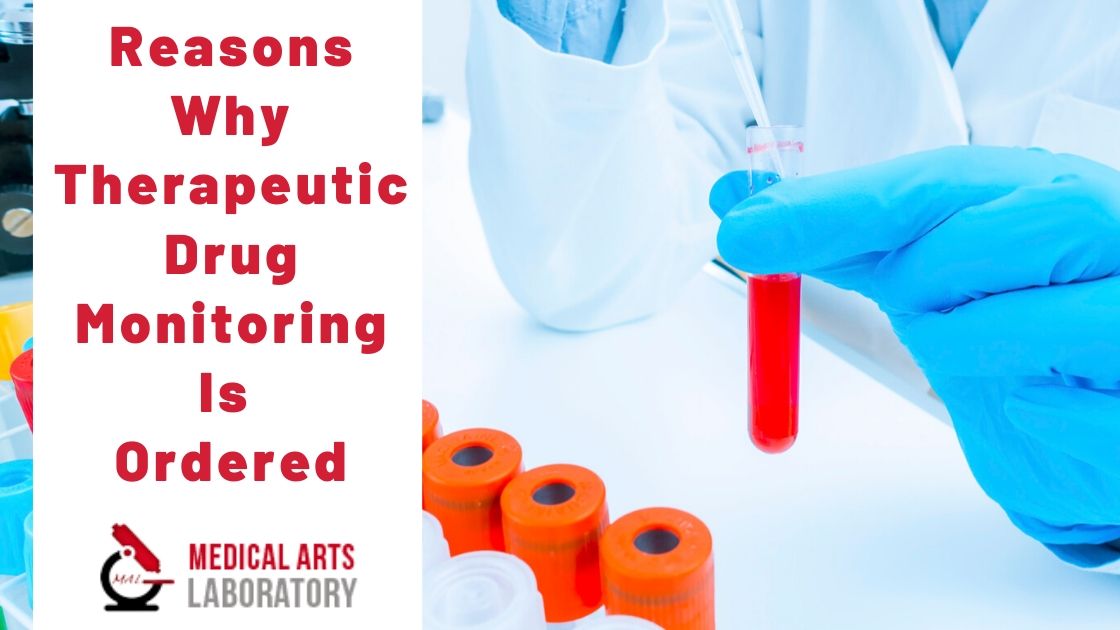 12 Dec

Reasons Why Therapeutic Drug Monitoring Is Ordered

People take many medications prescribed by doctors every day, but very few people ever need their body's response to their medications monitored through blood testing. This is because years of scientific medical research has aided doctors in appropriately prescribing medications for patients based on their age, weight and medical history. However, there are some individual cases when a patient may be required to undergo therapeutic drug monitoring for specific medications due to the patient's medical conditions and corresponding medications — all in order to ensure that the prescribed medications remain at normal levels within the body without becoming toxic.

Let's gain a better understanding of what exactly is therapeutic drug monitoring (TDM), its purpose, when it may be ordered by your doctor and which prescription medications often require TDM.
What Is Therapeutic Monitoring?
Therapeutic drug monitoring is a medical practice that measures prescribed medications, or drugs, at routine intervals within a patient's blood in order to regulate safe dosages of the monitored drug.
More specifically, Ju-Seop Kang and Min-Ho Lee, in an "Overview of Therapeutic Drug Monitoring," define therapeutic drug monitoring as "… the clinical laboratory measurement of a chemical parameter that, with appropriate medical interpretation, will directly influence drug prescribing procedures. Otherwise, TDM refers to the individualization of drug dosage by maintaining plasma or blood drug concentrations within a targeted therapeutic range or window."
The majority of medications do not require therapeutic drug monitoring due to wider therapeutic indexes, which are the ratios between toxic and therapeutic doses of medication. The more narrow the therapeutic index is for a drug in relation to the patient, the more likely therapeutic drug monitoring will be required via blood tests.
Purpose of Therapeutic Drug Monitoring
One of the most frequent and effective methods of therapeutic drug monitoring is through plasma drug concentrations, which are obtained from a patient's blood samples. There could be a number of reasons for which blood monitoring would be required by a doctor. While the general purpose of therapeutic drug monitoring is to evaluate the levels of a prescribed drug in a patient's bloodstream, the data gained from the testing can provide doctors and medical staff important information on how to proceed with necessary forms of treatment.
Plasma drug concentrations as part of TDM can be used for:
Tracking patient compliance (whether or not the patient is taking the medication as prescribed, or if adjustments to prescription levels need to be changed)
Avoiding toxic medication levels in the bloodstream
Monitoring how different drugs interact with each other and within the patient
Diagnosis of medication undertreatment
Developing individualized plans for early therapy and drug dose changes over time
Determining a plan for withdrawing therapy
No matter the exact purpose of therapeutic drug monitoring, the procured results will help doctors and medical staff to develop the best treatment plans for sustaining and improving your overall health.
When Is TDM Ordered?
TDM can be ordered by a doctor for a number of reasons, which depend on a patient's needs and health conditions. Most prescription drugs do not require therapeutic drug monitoring. Generally, medications required to be taken for the remainder of a patient's life are much more likely to require TDM to make sure that an appropriate amount of the medication is being taken as the body goes through natural changes over time. Patients prescribed medication for HIV, cardiovascular disease, liver disease, thyroid disease and kidney disease are likely to need therapeutic drug monitoring.
TDM occurs most commonly at the beginning of taking medication for the previously mentioned health conditions. This testing helps doctors to quickly determine if prescription levels need adjustment. After a period of time, the therapeutic drug monitoring is then often required on an as-needed basis.
When it comes to drawing blood for TDM, medical professionals will conduct a blood test at different levels during the time in which a drug is being processed by your body (peak, trough – the lowest concentration reached by a drug before the next dose is administered – or at random) in order to determine how exactly the medication is performing. These results will help guide treatment plans and any necessary adjustments to prescription drug dosages. 
What Types of Drugs Would Need TDM?
We briefly covered some of the most common health conditions treated by medications that typically require TDM. However, there are many types of prescription drugs and medical conditions that may need TDM, depending on your individual health condition.
Here is a common list of drug types that require TDM, along with their corresponding conditions:
Antibiotics — Antibiotics such as aminoglycosides, chloramphenicol and vancomycin are used to treat infections with antibiotic-resistant bacteria.

Cardiac drugs — Cardiac drugs such as digoxin, digitoxin, lidocaine, amiodarone, procainamide, quinidine and N-acetyl-procainamide are used to treat congestive heart failure, arrhythmias and angina.

Bronchodilators — Bronchodilators such as caffeine and theophylline are used to treat COPD, asthma and neonatal apnea.

Anti-cancer drugs — Anti-cancer drugs such as methotrexate and all cytotoxic agents are used to treat various cancers, non-hodgkin lymphomas, rheumatoid arthritis, osteosarcoma and psoriasis.

Antiepileptics — Antiepileptic drugs (including phenobarbital, phenytoin, valproic acid, carbamazepine, ethosuximide, sometimes gabapentin, lamotrigine, levetiracetam, topiramate, zonisamide, eslicarbazepine acetate, felbamate, lacosamide, oxcarbazepine, pregabalin, rufinamide, stiripentol, tiagabine and vigabatrin) are used to prevent seizures, treat epilepsy and sometimes stabilize moods.

Psychiatric drugs — Psychiatric drugs such as lithium, valproic acid and select antidepressants (amitriptyline, desipramine, doxepin, imipramine, and nortriptyline) are used to treat depression and bipolar disorder (manic depression).

Immunosuppressants — Immunosuppressants such as mycophenolate mofetil, tacrolimus, sirolimus, cyclosporine and azathioprine are used to treat autoimmune disorders and prevent rejection of transplanted organs.
Reliable Therapeutic Drug Monitoring
Therapeutic drug monitoring may sound like a long process, but each blood sample is collected in a very quick manner. Maintain your overall health with fast and reliable therapeutic drug monitoring services in Central Florida with Medical Arts Laboratory. Contact us to schedule your next TDM appointment.